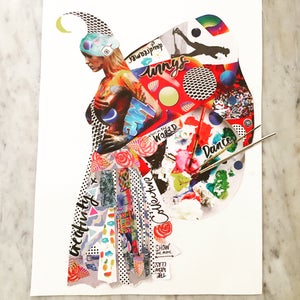 $

650.00
'Take Flight' 2015 #collage #collectivehub #madeleinegrummet
Running low on materials here in the Tuscan hills, but having devoured the latest issue of @collectivehub was so inspired I cut it up for keeps. ✂️ I am lucky enough to love and live my work. Creativity, connection, community, culture - having a crack - these are the things that circle in my daily life and work. But I meet lots of people who have a misalignment between what they do for a living and what gives them purpose or meaning. They want to make a change, make a difference, but they simply can't chart the course.
The Collective mag is a great kickstarter. It captures the spirit of the chase, the stepping stones, the creative movers, shakers and drivers that underpin so much of the entrepreneurial zest.
What most change-makers seem to share is a belief in possibility, in thinking beyond comfort zones, in taking small risks that push you out a bit beyond the safes. Of course it can be scary, but a little fear can also be a galvanizing force - something to push against.
Making a change is about having the courage to find your wings and take flight, certain of nothing but open to everything - that way, you'll never stagnate but soar with possibility.
INSTAGRAM @doremeceative
#creativitymatters #doremecreative #dream #do #collectivehub #gopro #lisamessenger @lisamessenger #magazines #entrepreneurism #collage #design #drawing #illustration #love #live #creative #interiors #travel
www.doremecreative.com